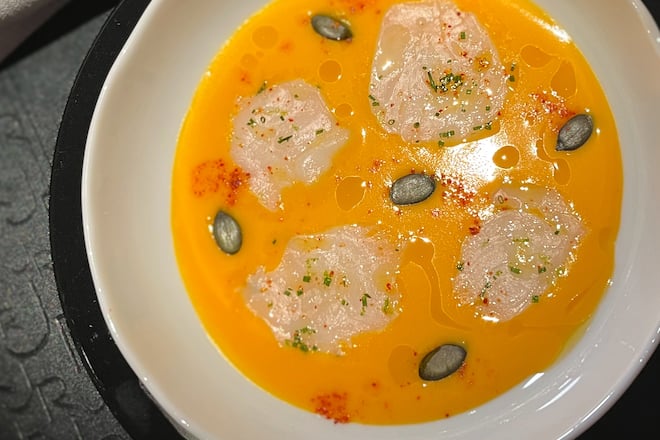 Recipe I Office des Vins Vaudois
Pumpkin veloute with scallops
Ingrédients
250 g pumpkin
1/2 onion
5 dl chicken broth
1/2 orange zest
1 pinch of sugar
1 dl of milk
50 g of butter
Salt and pepper from the mill
2 pc scallops
Lemon dressing and lemon zest
Chives chopped
Espelette piment
6-8 pumpkin seeds
Edible flowers
Préparation
Dice the pumpkin. In a saucepan, place 10 g of butter, 50 g of chopped onions and add salt. Simmer everything without coloring. Add the 250 g of pumpkin, the orange zest.
Pour 5 dl of chicken broth, 1 dl of milk, 1 pinch of sugar. Leave to simmer for 20 minutes.  Pour everything into the blender. Add 40 g of butter. Blend to obtain a smooth soup. Adjust seasoning. Serve immediately.
Cut the scallops in thin slices and marinate last minute with lemon dressing, chopped chives, zest and espelette piment.
Plate 2 ladles of hot soup into the plate and add the carpaccio of scallops on the top. Finish with some olive oil, pumpkin seeds and flowers.