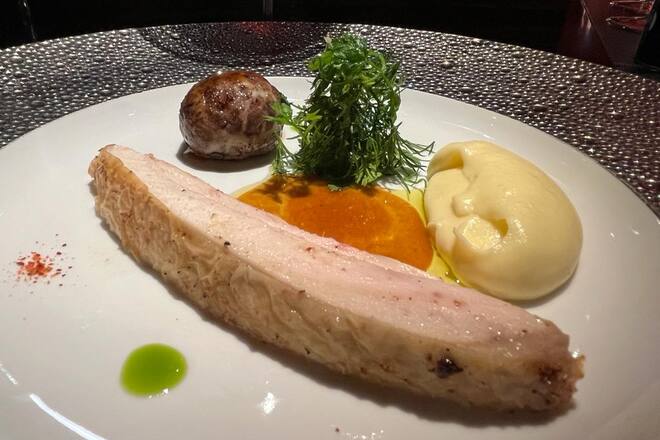 Recipe I Office des Vins Vaudois
Marinated & roast chicken
Ingrédients
Chicken
2 spoons of your favorite mash potato
2 scoops of mixed herbs (dill, chervil, chives sliced thinly)
Lemon and olive oil dressing
Butter
1 chicken breast
1 chicken leg - boneless
Red wine «instant marinade»
1 diced carrot 
2 diced mushrooms
30 g breadcrumbs
100 g baby spinach chopped
3 dl of red wine
Préparation
Simmer the vegetables together with a pinch of salt, add the wine, «flambee» and pour directly on the chicken leg. Leave it to cool down in the fridge for 2 hours, then remove the liquid.
Chop vegetables and meat with mixer or meat grinder, don't blend too much, add the breadcrumbs. Make some meatballs and roast in the oven at 170°C for +/- 15 min.
Brush the chicken with butter. Leave to cool in the fridge. Then roast the chicken breast at 170°C for +/- 20 min, cut in  two.
Make a nice plate with all the elements. Remaining marinade can be made into a sauce.