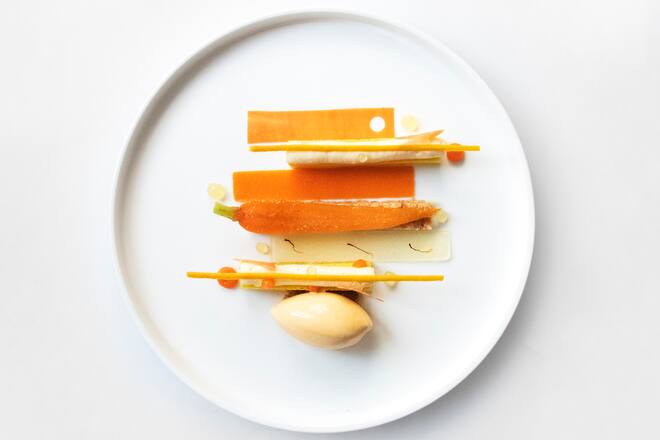 Recette
Spring Carrot Surprise
Christophe Loeffel
«Pâtissier de l'année» 2021, le jeune homme réalise de magnifiques desserts à la Maison Décotterd. Au gastro, mais aussi au Bistro et au lounge! Ou quand la haute pâtisserie se rend accessible.
Ingrédients
Diplomatic honey cream 
125 g milk
40 g yellow
15 g sugar
15 g cornflour
10 g butter 
25 g honey
2 g gelatine 
80 g cream 35%
Madeleine 
2 eggs
160 g butter
25 g honey with saffron
50 g milk 
100 G sugar
160 G flour
4 g baking powder 
White chocolate crispy
70 g white chocolate
20 g plain crêpes dentelles ( cookie ) 
10 g plain puffed rice 
20 g butter
Steamed and puréed carrots
4 carrots 
salt 
sugar
water 
Tuile (optional)
50 g powdered sugar 
50 g kneaded butter
50 g flour 
50 g egg whites 
A little saffron 
Carrot ice cream (optional)
280 g milk
50 g milk powder
15 g honey 
15 g atomized glucose
100 g cream 35% (or thicker)
150 g carrot purée
30 g sugar
3 g ice stabilizer
Préparation
Diplomatic honey cream 
Whip the cream until almost like Chantilly. Keep it in a cool place. Soak the gelatine in cold water for 10 minutes. Boil the milk in a saucepan, mix the yolks with the sugar and cornflour in a bowl. Pour half of the boiling milk over the mixture and whisk fast. Return the mixture to the saucepan and boil for 2 minutes while stirring vigorously. Add the butter and the gelatine. Mix well. Once this custard is at 35°C, loosen in a mixing bowl with a whisk until you obtain a smooth silken texture, add the whipped cream in 3 times with a cake spatula. Leave it in a cool place for 10 minutes.
Fill a pastry bag with a 10cm plain tip.
Madeleine
Make a hazelnut butter. In a mixing bowl add flour, baking powder, sugar and eggs. With the help of the whisk on low speed incorporate the milk and the honey slowly, finish by adding the hazelnut butter. Place in a cake pan with 2cm thickness.
Bake at 175°C for about 10 minutes, check with a knife if it is cooked. Turn out, let cool on grill. Use a bread knife to refine the edges into the shape you prefer.
White chocolate crispy
Melt the white chocolate. Crush the puffed rice, mix the melted chocolate with the puffed rice and cookie mixture, then add the softened butter and mix. Spread between two sheets of paper in the large rulers to 1 cm thick. Leave to cool for 5 minutes. 
Cut into 1.5 cm by 12 cm strips with a bread knife. Cool in the fridge for 30-45mins. 
Steamed and puréed carrots
Peel the carrots and leave 2cm of the green tops. 
Cook in a mixture of water, butter, honey and salt, covered, until they are melting. 
Cut the carrots lengthwise in 2.
For the purée, peel and rinse the carrots. Cut into small regular pieces. Fill a saucepan with water, salt and sugar, put a lid on and cook the carrots until they're very soft. Mix to make a purée and add seasoning to taste. Let cool before placing in piping bag.
Optional: for an additional plating element, prepare a sweet grape purée in the same method as the carrot.
Tuile (optional)
Mix the butter and powdered sugar with a spatula, then add the egg whites in small batches and finish with the flour and the saffron. Spread on a baking sheet and let cool. Bake in the oven at 170°C for 6 to 7 minutes. Take out and let cool. 
Carrot ice cream (optional)
Mix the sugar with the ice stabilizer and the atomized glucose. Heat milk, cream and milk powder. Add the dry powders and boil while mixing. Pour in the carrot puree and honey. Mix. Turbinate and freeze.