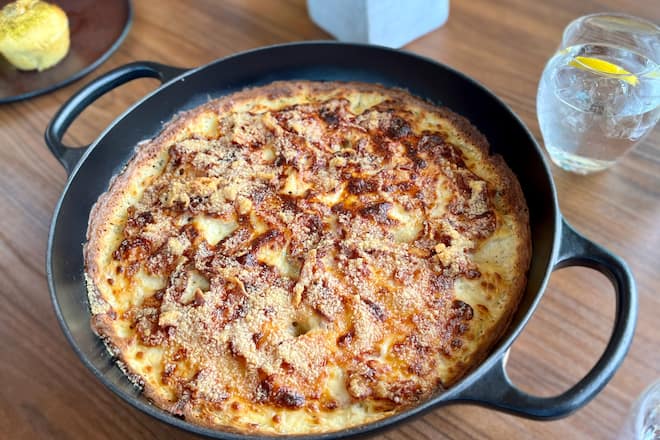 Recipe I soutenu par l'Office des Vins Vaudois
Rigatoni gratin, ricotta & spinach
Mirto Marchesi
Ce jeune cuisinier d'origine tessinoise est bourré de talent. Il est aujourd'hui derrière les fourneaux du restaurant du Villars Palace: Le 1913.
Ingrédients
Béchamel sauce
5 cl fresh whole milk
60 gr butter
50 gr flour ("00")
Salt and pepper  
Rigatoni with spinach filling
800 gr rigatoni
600 gr spinach shoots
2 cloves garlic
500 gr fresh ricotta cheese
180 gr parmigiano reggiano
250 g English bacon
Olive oil
Salt and pepper
Villars Palace
Route des Hôtels 28
1884 Villars-sur-Ollon
+41 24 496 22 96
Préparation
Béchamel sauce 
Melt butter in a saucepan. Add the flour and stir with a wooden spoon without letting it color. The flour should just thicken. Pour in the milk gradually, stirring constantly until the mixture thickens. Season with salt and pepper and cook for another ten minutes on low heat.

Rigatoni with spinach filling
Heat two tablespoons of olive oil in a frying pan and add the crushed garlic. Cook for about a minute over high heat. Add the spinach and fry quickly. Season and remove from heat.
Chop the spinach, mix with the ricotta and 170 g of parmesan cheese and place in a piping bag.
Blanch the pasta in salted water for five minutes, drain and cool on a lightly oiled tray, then stuff each rigatoni with the spinach-ricotta-parmesan filling.
Put some béchamel in an ovenproof dish, then place the stuffed rigatoni, cover with the rest of the béchamel and the previously fried bacon, and the rest of the parmesan. Bake for 25 minutes at 180°C.
Mirto Marchesi
, Villars Palace, Le 1913, Villars-sur-Ollon