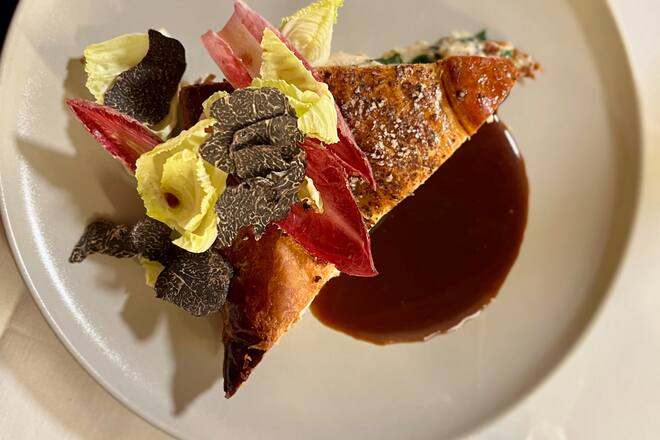 Recipe I soutenu par l'Office des Vins Vaudois
Christmas pithiviers with roasted cabbage
Ingrédients
(For 4/6 people)
Recipe to match with the «Altesse» wine Les Trois Terres of the Domaine de Valmont, La Côte
Pithivier
Puff pastry
500g kale
500g white cabbage
500g pointed cabbage
500g green cabbage
500g black tuscan cabbage
500g Milk
35g butter
35g flour t45
150g gruyere cheese
Black truffle (alternative: porcini mushroom)
1 egg
Sauce
Sliced cabbage and trimmings
250ml non filtered local beer of your choice
1pcs shallot
1pcs garlic head
1pcs oignon
1 bouquet garni
Spices and aromatic herbs of your choice (we advise: fennel seeds/ bay leaf/ cloves/ pink peppercorns, juniper berries)
50g butter
500ml roasted vegetable stock
Préparation
Pithivier
Trim all cabbage stems and reserve the leafs for blanching. 

Thinly slice 1/5 of the cabbages and reserve on the side for the sauce. 

Blanch for 4-5 minutes all the cabbage leafs, cool them down in ice water and pat them dry.

Melt the butter, add the flour and cook for a few minutes.

Bring your milk to a boil and add it to your roux while whisking vigorously. 

Lower the heat and cook your béchamel for around 20 minutes at low heat. 

Once your béchamel is cooked, add 75 g or grated gruyere and season with salt and pepper. 

Peel your black truffle and finely chop the outer layer. 

Add the chopped truffle to the béchamel and remove from the heat in order to cool down. 

Slice the black truffle thinly, along with the remaining block of gruyere.

Dispose a layer of clingfilm inside a medium size bowl. 

Begin layering all your cabbage leafs in the order you wish, adding a layer of béchamel, sliced truffle and sliced gruyere at every layer. 

Reserve in the freezer for around 45 minutes while preparing the sauce.

Once cooled down, place the dome on a layer of puff pastry, brush its sides with egg white, and cover with another layer of puff pastry. 

Brush your pithier generously with egg yolk, sprinkle with salt flakes and black pepper. 

With the help of a small round cutter, make a hole on its top to allow the steam to exit while cooking. 

Cook for 45 minutes at 180 degrees and allow to rest for at least 20 minutes.
Sauce
Roast 1/3 of the sliced cabbage in the oven until golden brown. 

Sear the remaining cabbage, sliced oignon, garlic and shallot and in butter and vegetable oil until completely caramelized. 

Deglaze with beer and once reduced to a syrup consistency add all the vegetable stock. 

Add spices and bouquet garni. 

Once reduced to a glaze, take off the heat, add around 15 g of cold butter to emulsify the sauce and season with salt, pepper and vinegar if needed.
Dressing
Once your pithier has cooled down, slice it in 4 to 6 parts, serve it with a generous amount of sauce, and garnish it with some bitter herbs and additional slices of truffle. 

Can be made the day before.
>> The video-recipe here