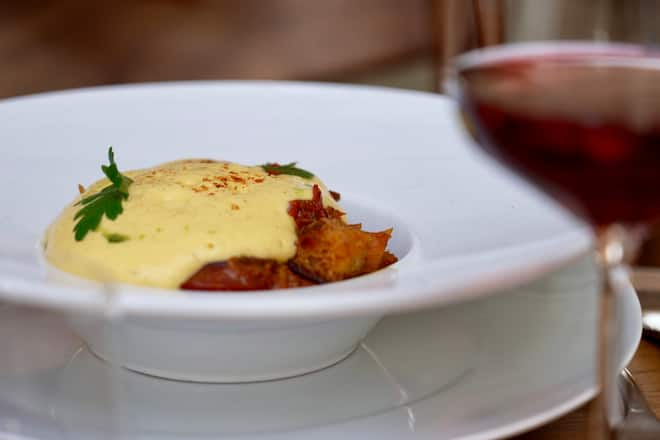 RECIPE I SPONSORED BY THE OFFICE DES VINS VAUDOIS
Perfect egg, butternut and chorizo
Philippe Patruno
Philippe Patruno dirige la pimpante auberge «Le Petit», à St-Légier, avec conviction et créativité. Son pâté en croûte est l'un des meilleurs de Suisse romande, selon le guide 2024.
Ingrédients
A recipe to pare with the pinot noir Gui Begn of the Domaine Antoine Bovard in Treytorrens, Lavaux AOC
Pumpkin Pisto
200 ml olive oil
1 onion plus one red onion, finely chopped
5 cloves of chopped garlic 
2 fresh chilli chopped
1 tbsp cumin
3 aubergine diced and marinated in a little salt
700 g pumpkin deseeded and roughly chopped 
Oregano 
Thyme
Sage 
Large tin of plum tomatoes tomatoes
Sea salt 
300 g raw chorizo 
Bread diced (preferably a day old) 
Dried chili 
Smoked paprika
Large tbsp of chopped parsley 
6 eggs
Butternut Espuma 
1/2 butternut squash
500 ml vegetable stock
50ml double cream
Pepper, salt and sugar to taste
Préparation
Pumpkin Pisto 
Heat the oil in a heavy frying pan. Gently cook the garlic, onions, chilies for about 10 mins or until soft but no coloration. Then add the cumin and fry for 2 mins.

Add the pumpkin and herbs plus the remaining olive oil, cook for about 10 mins. Press the aubergine, add to the pain along with the tomatoes. Season well, bring to a boil then simmer for 35 mins.

In meantime, slice and cook the chorizo until it renders all the oil. Remove from the pan. Cook the bread in the remaining chorizo oil for about 1 min or until well coated but not soft. Remove from pan and leave on a paper towel until plating. Mix chorizo with the simmering pisto.

For the eggs. Cook in a Bain-marie for approx 1h at 62.5 celsius. Alternatively you can do "eggs mollet" or fried eggs. When ready to serve, laddie the pisto into a dish. Add the egg on top. Grind black pepper and dried chillies or for less spicy, a dash of paprika. Add the diced bread and the parsley. Enjoy!
Butternut Espuma 
Preheat the oven to 180 degrees celsius. Cook the unpeeled Butternut for approx 15 mins. Leave to cool slightly, then peel and chop into small cubes.

Add the butternut to the pan and pour over some hot vegetable stock until just covered. Simmer for about 5-8 minutes until the butternut squash is very soft and starting to fall apart - this is very important so it can be blended until very smooth. 

Remove the pan from the heat. Pour out a little of the stock and reserve in a separate pan. Add the cream then blend the butternut mixture until very smooth, like a thick soup. If it is too thick add some of the reserved stock.

Season the mixture with a large pinch of salt and little pepper and sugar to taste.

If you are using a 500 ml foam gun measure out 400 ml of the mixture. Pour into the nitrous oxide canister through a sieve and charge. Carefully squirt the espuma on top of the pisto and eggs. Finish with parsley and chilli or paprika. Serve immediately.