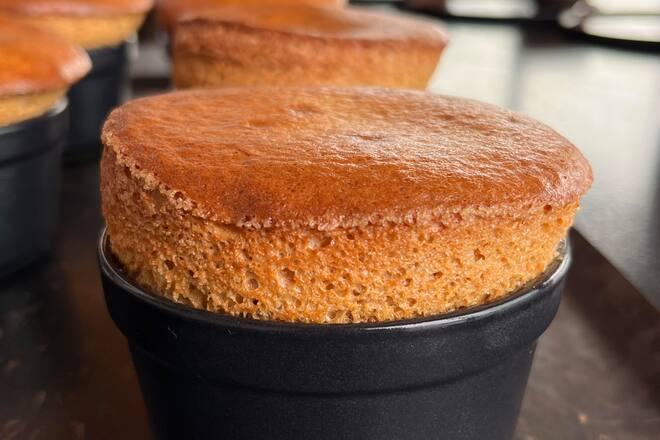 Mirto Marchesi
Ce jeune cuisinier d'origine tessinoise est bourré de talent. Il est aujourd'hui derrière les fourneaux du restaurant du Villars Palace: Le 1913.
Ingrédients
(For 4 people)
100 g egg white
20 g sugar
70 g egg yolks
20 g sugar
150 g dulce de leche
1 pinch of salt
Villars Palace
Rue Centrale 135
1884 Villars-sur-Ollon
+41 24 495 21 26
Préparation
Beat the egg yolks with 20 gr of sugar, add the dulce de leche and mix to obtain a uniform mass.
With the help of a stand mixer, whisk the egg whites with the sugar until fluffy; add to the first preparation in three stages, and finally add the salt.
Coat soufflé moulds with butter and sugar. Fill the moulds with the soufflé mixture.
Bake for 14 minutes at 180 C°.
Dulce de leche recipe
400 g sweetened condensed milk
Pour the condensed milk into a small bowl. Place the bowl in a large pot. Fill pot with water to cover ¾ of the bowl and place over medium high heat. As soon as the water comes to a boil reduce to a simmer then just keep an occasional eye on the water level and refill as necessary. 2 hours of simmering will give you a light golden colour. Leaving it longer will result in a darker amber colour with a richer flavour. Leave to cool slightly and then transfer to a jar with a lid. Use within 1 month.
Mirto Marchesi
, Villars Palace, Le 1913, Villars-sur-Ollon