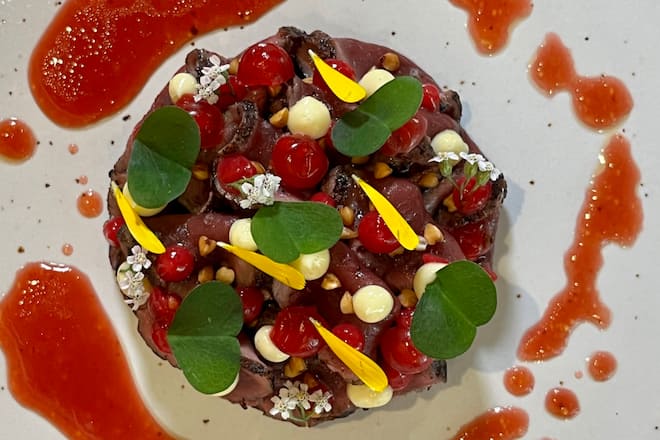 Recipe I Sponsored by the Office des Vins Vaudois
Venison tataki with redcurrants
Christophe Genetti et Maël Gross
Les deux chefs des Touristes (16/20), à Martigny (VS), sont «Découverte de l'année» 2022 et impressionnent leurs hôtes avec une cuisine savoureuse et graphique.
Ingrédients
For four people
A recpipe to pare with
the sauvignon Cuvée confidentielle of the Domaine de Montbenay, AOC La Côte
Tataki
50 g juniper berry
50 g Tasmanian berry
400 g venison rib steak
Salt
Chanterelle cream
10 g butter
50 g shallots
200 g chanterelle
50 g full cream
Salt
Redcurrant vinaigrette
200 g redcurrants
10 g olive oil
10 g meat juice (gravy)
Salt
Redcurrant pulp
100 g redcurrants
10 g sugar
Gooseberries with gin
Gooseberries
Gin
Hazelnut mayo
1 egg yolk
1 tsp mustard
200 g sunflower oil
200 g hazelnut oil
10 g rice vinegar
Salt
Les Touristes
Rue de l'Hôpital 2
1920 Martigny
+41 27 552 01 50
Préparation
Tataki
Blend the juniper berries and Tasmanian berries into a powder, mix the powders and set aside.
Take a trimmed venison steak and season with salt. Roll the steak in the juniper/Tasmania powder. Set the steak aside in the fridge for 10 minutes.
In a hot pan, cook the venison on each side, rolling gently for 2-3 minutes. Set aside in the freezer until slicing and plating.
Chanterelle cream
Chop the shallots and sweat in a little butter. Sauté the chanterelles and add to the shallots. Moisten with the cream and reduce until desired consistency.
Redcurrant vinaigrette
De-stem the redcurrants and juice the berries. Add the oil and warmed meat juice. Adjust the seasoning.
Redcurrant pulp
Cover and cook the redcurrants and sugar for 10 minutes. Blend to make the pulp. Strain through a sieve to remove the seeds. Pour into pipettes and chill.
Redcurrant with gin
Cut a few berries in half and marinate in a drop of your favourite Gin.
Hazelnut mayo
Mix the mustard and yolk, emulsify with the sunflower oil and then the hazelnut oil. Finish with the rice vinegar to taste.
Plating
Thinly slice the venison and layer the slices on each other forming a mound over the chanterelle cream. Distribute the gin infused redcurrants across the venison. Using piping bags, dot the meat with both the mayonnaise and redcurrant pulp. Complete with microgreens, flowers and the redcurrant vinaigrette. Serve.
Christophe Genetti et Maël Gross
, Les Touristes, Martigny